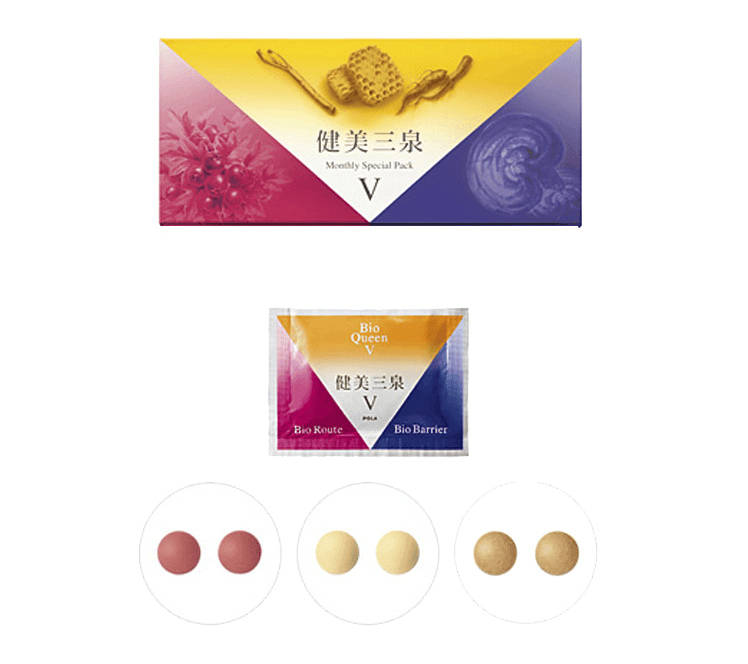 POLA Monthly Special Set EX (1 Month)
POLA Bio Queen V (1 Month)
High-quality royal jelly, red ginseng made from ginseng, Siberian ginseng, which is prized as a healthy diet for a long time,
One of the few Japanese native plants Araliaceae. In the Edo era it is treated as luxury goods, it has been used for health for a long time. Fatigue recovery effects are known, the roots have been utilized well as herbal medicine of traditional Chinese medicine in the medicinal. Paula is the first time, focused on the work to enhance the parasympathetic, was compounded by extract of the original.
POLA Bio Cycle (1 Month)
May flower that was extracted from the fruit of the rose family of plants hawthorn, Mitsuhanamame, Ryumeniku , such as the 10 kinds of material formulations.
POLA Bio Defex (1 Month)
Rare called phantom of mushroom "Ganoderma lucidum", fennel, Tamamaihige, the seven types of materials such as turmeric blended.
How to Use:
•2 drops of each supplement a day, please drink with water without chewing.
•Pregnant women and lactating mothers are advised to consult their doctors before consuming any supplement.
◆ The set includes
6 tablets × 30 bags
1 bag: Bio Queen V + Bio Cycle + Bio Defex each two tablets
Made in Japan